January 06, 2019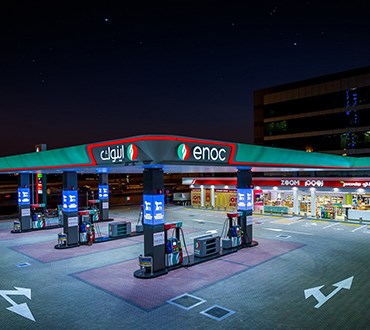 Dubai, UAE; January 6, 2019: ENOC Group concluded 2018 with the opening of five new service stations, expanding its network to 128 service stations in the UAE. The Group is on track to increase its fuel retail presence by 40 per cent by 2020.
Located in Wadi Al Safa, Dubai-Al Ain Road, Warsan 3, Nad Al Shiba 3 and Muhaisnah 5, the five new service stations will help residents and tourists to meet their fueling needs as well as their daily necessities. Built in compliance with the Dubai Municipality's Green Build regulations, the stations are designed with UL Certified double wall tanks and fuel piping with secondary containment to mitigate environmental pollution.
His Excellency Saif Humaid Al Falasi, Group CEO, ENOC, said: "ENOC has consistently focused on meeting the growing demand for fuel considering the increase Dubai's population and to support the Emirate's infrastructure development. Our plans to expand our retail network are in line with the goals of Dubai Plan 2021 to establish Dubai as a smart and sustainable city, further underlined by our focus on developing service stations powered by solar energy. With preparations for Expo 2020 Dubai, a global event that will welcome over 25 million visitors, we are strengthening city's infrastructure to meet both short-term and long-term fuel needs."
The Photo-Voltaic (PV) solar panels, installed on the canopy of service stations, can generate up to 120kWh (Kilowatt per hour) energy, which is about 30 per cent more than the average energy required to run a station. The excess power is transmitted to the main grid of Dubai Electricity and Water Authority (DEWA) with a solar meter installed to monitor the power to be sent to the grid.
The service stations are also equipped with DEWA's electrical vehicle charging stations, as well as an integrated digital wall displays on the forecourt columns. The service stations also feature a ZOOM convenience store, Pronto, and AutoPro. Customers can pay for services at the station using cashless payment options, whether through credit and debit cards, or by mobile payment options such as Dubai Now App, as well as ViP, NoL cards, and ENOC pay.